5 Highest-paid Maintenance and Repair Jobs in the US in 2021.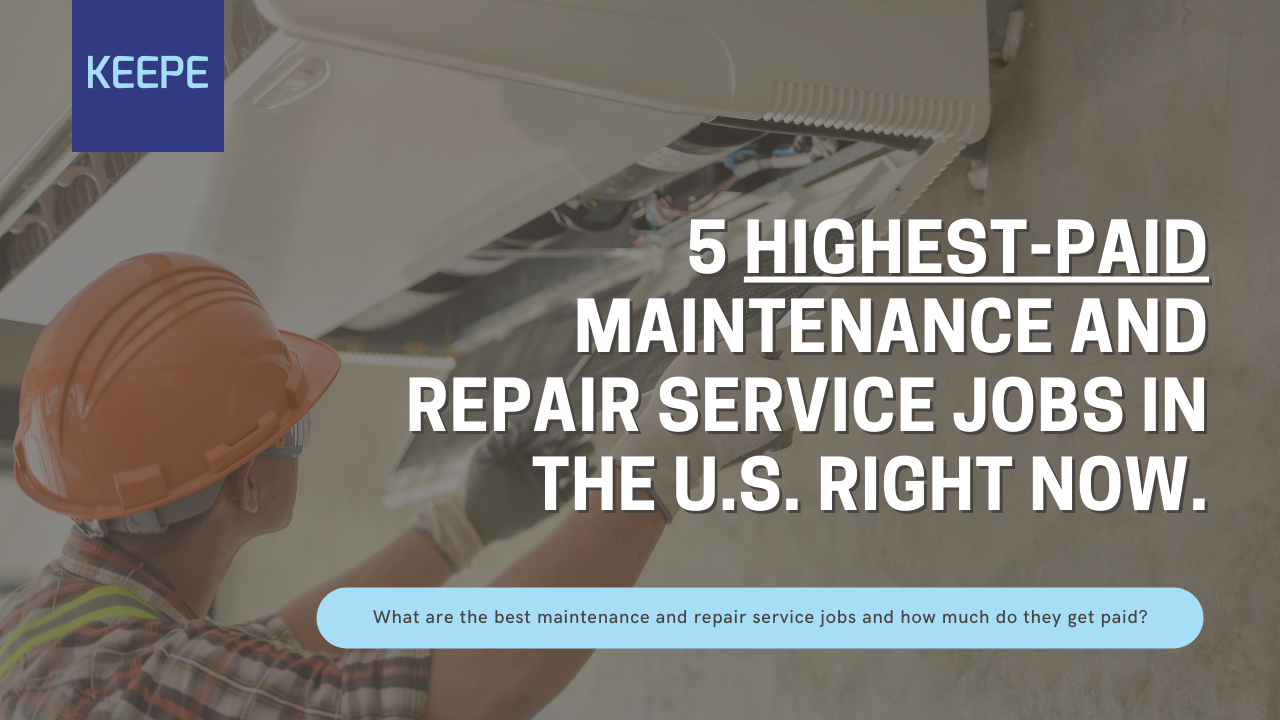 Service technicians, mechanical workers, and maintenance technicians are all very skillful in their trades. Their expertise in the appliance, HVAC, machinery, medical or automotive fields is unmatched when it comes to repairs and assessing problems. As the future progresses, repair services are still sought out for and some are irreplaceable by automated machines.
Because demand for repair technicians will keep increasing over the next decade, we've compiled several of the highest-paid repair jobs in the U.S. right now:
1.  Aircraft Mechanic
Expected to achieve a median salary of $77,000 this year, aircraft technicians work in hangars to repair aircraft on demand. Aircraft technicians work with avionic equipment, fix electrical systems, repair broken wings, and replace defective parts. Technicians getting into the aviation field need to follow detailed regulations and can only train at a technical school approved by the Federal Aviation Administration (FAA).
2.  HVAC Technician
HVAC technicians work with air conditioning and heating systems. In 2020, HVAC technicians can earn an average of $50,590 a year repairing heating and cooling systems at residential homes. Most HVAC mechanics graduate from trade schools with classes ranging from 3 months to 1-year programs widely available in every city and would need a high school degree to apply.
HVAC technicians at Keepe could earn hundreds more doing additional residential projects earning potentially $55,000 to six figures a year after added jobs in their free time. Being in Keepe's network means HVAC technicians could save time on scheduling and earn supplemental income aside from their full-time job.
3.  Renewable Energy Technician
Renewable energy technicians work on repair and maintenance for wind turbines and solar panels. Earning up to $52,070 in 2020, they have to be highly knowledgable in weather, have experience in welding, and construction materials. After a high school diploma, future renewable energy technicians have to undergo an apprenticeship or a 2-year program to obtain their license.
4.  Residential Appliance Technician
Appliance technicians are responsible for a range of electronics from dishwashers to ovens. They are highly sought out during and after the pandemic as people stay home often and break their appliances. Residential technicians and contractors can earn up to $500-$1000 a day working on plumbing, electricity work, circuit breakers, refrigeration, and many more. After utilizing the Keepe platform, technicians and repair companies reported an increase of 15% in their first few months of using Keepe, and 50% in their second year, earning from $47,580 to $55,000 a year independently.
5.  Industrial Machinery Mechanic
Industrial mechanics work on maintaining machines, lubricating, repair and performing tests on factory machines. They have a median salary of $50,100 in 2020 and are projected to increase in job openings in the next 10 years although new industrial mechanics have to go through 2 years of technical school and another 3-4 years of apprenticeship.
To sum it up, repair and maintenance services will always be on the rise and in high demand for the upcoming future. It will be wise to play to your strengths and interests to choose the right service career for you.