6 Fast Home Winterization Tips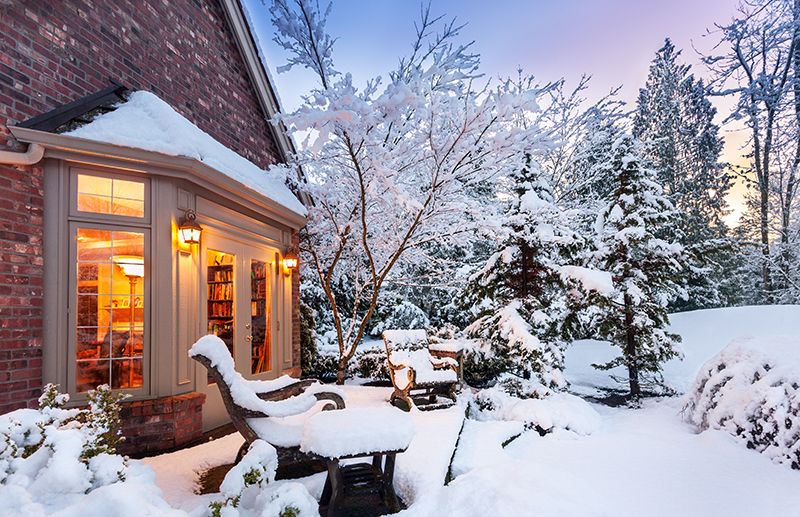 When the leaves are turning and there's a chill in the air, there's no denying that winter is on its way. Winter can take a serious toll on a house. It's not uncommon for snow, ice and freezing temperatures to cause billions of dollars in damage to homes across the country each year. The risks include frozen pipes, roof collapses, ice dams and more.
There are several things you can do to help ward off these risks, while also saving energy and money. Below are six easy home winterization tips you can start before winter starts in your location.
Seal Your Doors And Windows
If you can see daylight around the edges of any of your doors and windows, it's time to get out your trusty caulking gun. Make sure the heat you're paying for isn't escaping through those gaps. If you've got storm windows, now's the time to put them into place.
It's never a fun task, but cleaning your gutters is one of the most important things you can do to get ready for winter. Gutters that are full of leaves and other debris trap water from rain and snow melt. Then, when the temperatures drop that water turns into ice, which can cause the gutters to pull away from the house and create overhead hazards.
Get Your Furnace Serviced
Your furnace is the very heart of a comfortable winter. So treat it well by calling a pro to conduct an annual check-up to make sure it stays strong all season long. Your contractor will clean the furnace to remove dust that could hamper its function, replace dirty filters, and ensure it's not venting harmful exhaust into your home.
There's nothing better than sitting in front of a cozy fire on a cold winter night. But with wood-burning fireplaces, creosote can build up in the chimney over time and even catch on fire, with potentially deadly consequences. Prevent this by having your chimney cleaned every year.
Invest in a Smart or Programmable Thermostat
This one is optional, depending on what you prefer. According to this article by bob vila, "the US Department of Energy says that you can save as much as 1 percent on your energy bill for every degree you lower your home's temperature during the winter."
Using a programmable thermostat allows you to control the temperature when you are not home. This way, you can save on energy bills and save energy. Using a smart thermostat allows the device to control the temperature in your house and moderate it. It will automatically reduce or increase temperature without you even noticing it.
It's much easier than it sounds. Pick up foam insulation tubes designed for the task (you'll need to know the diameter of the pipes), cut the tubes to length and pop them into place. Insulate pipes that near outside walls to help prevent them from freezing on frigid nights. It's one of the cheapest ways you can winterize your home.
Final Thoughts
Follow these winterizing tips, and you'll be prepared for any type of weather that comes your way this winter.